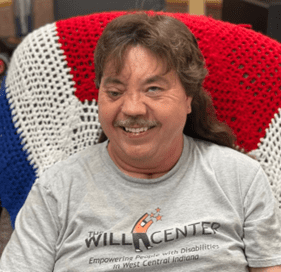 Randy Berg
Front Desk / Social Media
---
Hello, my name is Randy J. Berg
I am a Navy Vet who has been working at the WILL Center as their Front Desk Receptionist / Social Media specialist since April 2nd of 2012. I also serve as a Field Supervisor/Trainer for the Indiana State University Social Work Department undergraduate internship field program. I received my Bachelor's in Social Work degree in December of 1992, after losing my sight in a motorcycle accident in March of 1987.
Being the first person you meet when you enter the WILL Center's doors, I strive every day to maintain a positive and cheerful attitude. I enjoy brightening our consumer's day when they visit the center. I come into the center each and every day with a smile on my face and singing a song. My love for music shines through in everything I do and that is why I sing out loud. I do this hoping to bring some joy to those that visit the center each day!
I also play several instruments and have been the lead singer for several local bands. I have two biological children that I raised, and numerous others I love and have raised like my own. I spend my spare time listening to music while surfing the internet. I also, enjoy spending time with my family. I also love to roller-skate and some of you might even remember me from my Terre Haute Skate Center Days.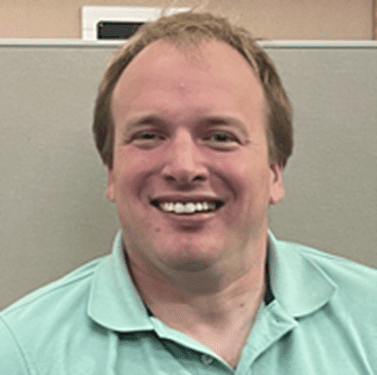 Jared Price
---
Jared Price was born and raised in Terre Haute; IN. Jared was born 2 months premature with Cerebral Palsy and legally blind. Jared's parents believed that Jared shouldn't be treated differently due to his disability. They raised him just as they did his brother and sister. His parents raised him with the belief that he could accomplish anything he put his mind too. Jared feels he couldn't ask for a better family and support system. They have been great role models and fierce advocates. Jared's parents are very passionate people and made sure they learn all they could about their son's various conditions. They began advocating for him to attend Riley Elementary with his brother Kevin. The School felt they were ill-equipped to handle someone with special needs. Plus, the School argued that he would need to take stairs to access their classrooms. Jared's mom asserted that we have stairs in our home, and he navigates them without any problem. The school referred them to Covered Bridge Special Education District for evaluation. Jared's parents enrolled him in Riley Elementary in 1991. He was the first student with disabilities to enroll in the School. Jared was a very friendly child and was quick to make many friends. He even got to hang out in the principal's office and the two typed stories together. Today Riley Elementary has a thriving program for students with disabilities. Later in life, Jared attended and graduated from Terre Haute South Vigo High School in 2004. He graduated with an Academic Honors Diploma. He applied for college and was accepted to Vincennes University. Once there, he fell in love with History. He thought he might want to teach and then decided to transfer to Indiana State University. Jared graduated from Indiana State University in 2008 with a History degree.
Jared had worked for a few different employers after leaving college. He worked with Vocational Rehabilitation to learn how to use a long white cane for independent travel. Jared also worked with a job coach to enhance his job skills. Jared started volunteering at The Wabash Independent Living and Learning Center in July 2013. He obtained his first dog guide, Middleton, from Leader Dogs for the Blind in Michigan. Middleton made friends with everyone he met. Jared and Middleton transitioned to working at the Center full-time in March 2015 as the Youth Transition Coordinator. Jared has enjoyed helping several students and their families learn to advocate and plan for the future. Jared loves to pay it forward and use the skills he learned from his parents to empower others.2017 Jared graduate from the Indiana Partners in Policy Making Academy. The Academy is ran by The Governor's Council for People with Disabilities, they hosts wide variety of programs that promote the education of those with intellectual and developmental disabilities. The Partners in Policy Making Academy program aims to help people with disabilities, and their family members develop their advocacy skills and use their voices to influence policy to bring about change for the Disability Community. Jared also holds a certification as Benefits Liaison through Indiana University's Indiana Institute of Disability and Community. A Benefits Liaison can help individuals with disabilities understand their benefits. Jared can also help them create a plan explaining how returning to work may affect their benefits.
Jared enjoys spending with his friends and family. He loves going on cruises and exploring new places. Jared bought his first home in July 2021. He lives with his partner Derek, retired Leader Dog Middleton, and Winston the Corgi.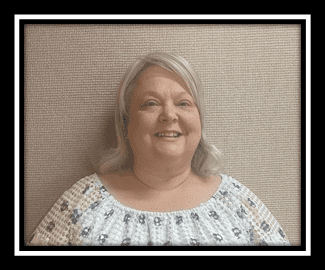 Eve Fears
---
Eve Fears is a native Hoosier born and raised in Northwest Indiana. She moved to Terre Haute thirty-six years ago. She raised her family here and has loved the culturally rich offerings of the Wabash Valley. Eve has spent her life using her personal and career experiences to help people overcome many of life's difficulties, providing them with the support they need when their life seems to be more than they can handle. This philosophy is a perfect fit for the position of Low Vision Coordinator with The Will Center. She knows there is no single approach that works for everyone, so she continues to educate herself on emerging technologies and tactile trends to provide the most comprehensive program that works for each of her consumer's individual needs. She received her education at Indiana State University. She is an avid reader and always wants to learn. Eve lives with her husband Robert in Terre Haute, Indiana. She is the proud mom of two adult daughters and one incredible son in-law. Her daughters graduated from St. Mary of the Woods and DePauw University/ University of Pennsylvania. She enjoys crafting and flower design. She is currently running the WILL Center craft-ability program.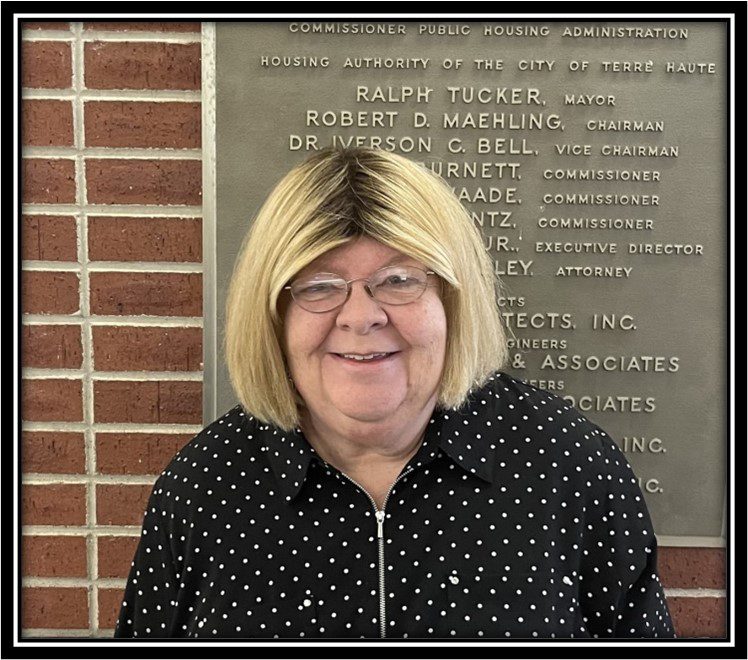 Gloria Stamper
---
Gloria Stamper was born and raised in Terre Haute, Indiana. She spent the majority of her working career in Mental Health Services. Gloria came to The Will Center in October, 2009. She began working as an Independent Living Coordinator, assisting persons in working on goals that would allow them to maintain their independence. Currently, she is the Program Manager for the Independent Living services. Gloria believes there are many people who struggle with life challenges and to be able to support them in their time of need is the most rewarding benefit of doing this job.
In addition to her responsibilities, Gloria also took training to become a certified SHIP counselor for the state of Indiana. Her expertise with Medicare enables her to work with individuals who are new to Medicare. The Will Center is a Medicare Enrollment Center, one of many in the state of Indiana. She works diligently during Open Enrollment to see as many persons as possible to help them with their health care plans.
Gloria received her education through Ivy Tech and continued her studies at ISU. She enjoys spending time with family and friends. She is the mother of two adult children, who also reside in the Terre Haute area. She enjoys reading books by Danielle Steele and collections from Dean Koontz. She also enjoys fictional historic series, mostly seen on Netflix.