The WILL Center, INC.
(Wabash Independent Living & Learning Center)
Address:
1 Dreiser, Square
Terre Haute, In. 47807
Phone / Fax
PHONE: 1-812-298-9455
TOLL FREE: 1-877-915-9455
FAX: 1-812-299-9061
BUSINESS HOURS:
Monday through Thursday 8:00 am – 4:00 pm
Friday 8:00am till 12:00pm (NOON);
Closed Saturday & Sunday
Mission Statement
To empower people with disabilities to ensure that they have full and complete access to community resources to promote their independence.
On behalf of our partners with Servants at Work, Inc, our many volunteers and the people who receive a custom-built wheelchair ramp that allows them full access to their home, we at The WILL Center extend our gratitude to the Duke Energy Foundation for its generous contribution to our project. Their interest in creating more inclusive, livable communities is clearly visible in their support. We can't thank them enough.
Low Vision Program (Chapter Two)
The Older Blind and Visually Impaired program (Chapter 2) assists people aged 55 and older who are experiencing issues associated with visual impairment. All Chapter 2 services are provided free of charge.
Sight Loss Support Groups
During these meetings individuals and family members are introduced to resources, low vision aids and peers who are visually impaired. During the meetings guest speakers provide the latest information in the field of visual impairment.
The WILL Center is a nonprofit, community based, nonresidential organization that is run by and for people with disabilities and provides the following services:
Individual Advocacy
Systems Advocacy
Information and Referral
Independent Living Skills Training
Assistive Technology Information
ADA Information
Peer Counseling
Transition
Serving:CLAY, PARKE, PUTNAM, VERMILLION, OWEN, & VIGO COUNTIES IN WEST CENTRAL INDIANA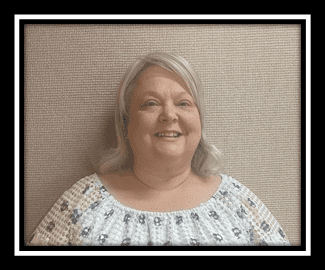 Eve Fears
---
Eve Fears is a native Hoosier born and raised in Northwest Indiana. She moved to Terre Haute thirty-six years ago. She raised her family here and has loved the culturally rich offerings of the Wabash Valley. Eve has spent her life using her personal and career experiences to help people overcome many of life's difficulties, providing them with the support they need when their life seems to be more than they can handle. This philosophy is a perfect fit for the position of Low Vision Coordinator with The Will Center. She knows there is no single approach that works for everyone, so she continues to educate herself on emerging technologies and tactile trends to provide the most comprehensive program that works for each of her consumer's individual needs. She received her education at Indiana State University. She is an avid reader and always wants to learn. Eve lives with her husband Robert in Terre Haute, Indiana. She is the proud mom of two adult daughters and one incredible son in-law. Her daughters graduated from St. Mary of the Woods and DePauw University/ University of Pennsylvania. She enjoys crafting and flower design. She is currently running the WILL Center craft-ability program.